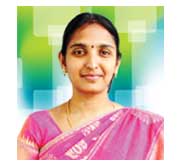 Welcome to the Don Bosco family!
Our motto "Leading with foresight and compassion" is at the heart of every thing we do at the school. We aim to not just impart knowledge to the student but also inculcate wisdom, compassion and a humanitarian spirit. Discipline, value and integrity are the very foundation of our school.
Our mission is to equip students with high moral values and to nurture them into self confident individuals. At DBX our approach to learning is child centric and activity based. Besides scholastic programmes, we encourage the students to participate in a variety of co-curricular activities.
We the management and teachers prepare the students for life, groom them to face the challenges of tomorrow and grow to their full potential. I wish to acknowledge the extreme hard work of our dedicated staff members who guide our students in the way of excellence.
We are confident that the Bosconians of DonBosco School of Excellence, Tirupattur will make themselves stronger day-by-day. I strongly believe in an effective partnership between home and school in the holistic development of a child. We know, the stronger the partnership the more our children will benefit.
I am delighted to work with you to create a school where parents feel welcome, students are engaged in meaningful learning and the staff members are valued and appreciated for their efforts.
Regards
Mrs.Annie Nirmala
Vice Principal